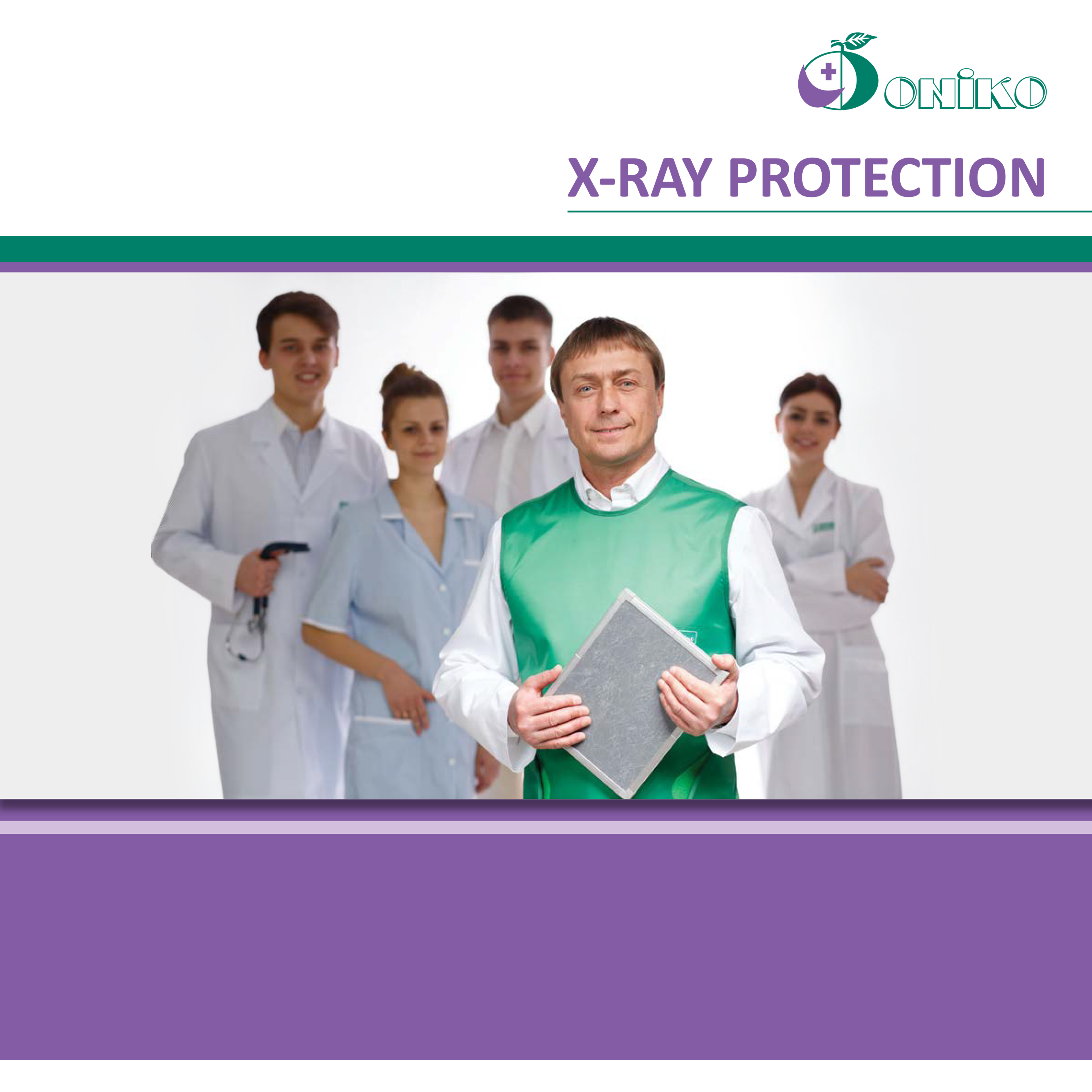 X-RAY PROTECTION
Comfort and quality
The quality requirements to the production of clothing for radiation protection are stricter than ever. Modern diagnostic and therapeutic procedures based on the effects of radiation, require the increase of the time for wearing protective clothing. Protection requirements vary for different applications. The policy of ONIKO company allows to offer the approved and the widest range of models. Protective material Vinyl is a material which provides good protection for the users. It satisfies the basic ergonomic requirements, especially for long time investigations with X-ray protective clothing. Our company pays special attention to the unique design and optimum workmanship. Modern manufacturing technology and constant quality control ensures that the concept of our brand users receive a proper assessment. Oniko offers products from the following types of vinyl:
«Bi-layer Low Lead» – revolutionary Bi-layer material that
is the lightest, most flexible and durable material in the
market today;
«Bi-layer Lead Free» – revolutionary Bi-layer lead free material;
«Light Weight Lead Vinyl» – 5% lighter than «Vinyl Standard», the most popular lead vinyl material, is used as basic
«Super Light Lead Vinyl» – 15% lighter than «Vinyl Standard»;
«Vinyl Lead Free» – lead free vinyl which 15% lighter than «Vinyl Standard».
ONIKO offers products with lead equivalent Pb = 0,25 mm, 0,35 mm, 0,50 mm or 1 mm. Pb 0,25 mm is at the back of the x-ray protection, unless different is specified. The effectiveness of protection was tested in the X-ray tube voltage of 100 kV. We can make products with different lead equivalent upon customer request.
The outer cover
For the current production range of X-ray protection the brand-new outer material coating is applied. It sturdy fabric of the highest quality. The protective clothing with an outer coating meets all hygienic requirements of medical industry. The material is produced as a protective coating that stays fresh and clean and it will last lifetime. This material made of PES knitted fabric substrate and Polyurathane coating. It is washable, waterproof, bielastic and extra resistant to light. This material is available in 7 nice modern colors.
Safety guarantee
ONIKO X-rays protection meets all modern requirements and standards. The products are qualified by European legislation IEC 61331-3 «Protective devices against diagnostic medical X-radiation». ONIKO products are certified in accordance with the applicable CE standard: Regulation (EU) 2016/425 of the European Parliament and of the Council. Trademark ONIKO guarantees clearly structured management quality in the development and manufacture of products, which is certified to compliance with standards ISO 9001:2015.