Film ONIKO RP-1D. Dental film
Top high quality of image under the reduction of dose irradiation to 30%

The newest base technology and especially low basic fog of RP-1D film provide the X-ray image receipt, that excel in large picture sharpness. RP-1D allows exactly to reproduce shallow details due to the unique sharpness of image. The special technology of emulsion preparation and applying allows to get images with a high contrast. RP-1D is made of AGFA materials.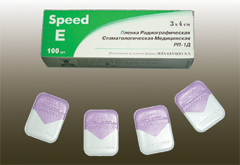 RP-1D is an universal dental film for intraoral pictures:
- to receipt high-quality pictures at a low X-ray radiation;
- to use for any indications.

Minimum dose of radiation

Simultaneously with the considerable exposure reduction (E sensitivity), RP-1D film provides the best image quality in comparison with widespread films of D class.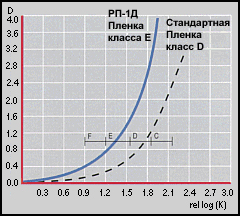 Substituting D class films, reduction of dose irradiation is possible (depending on film type) to 30%. If the E class films have been being used till now it is possible to go on RP-1 D film without change of time exposure .

Ease of handling
improved recognition of film in a dark room;
especially soft artificial material - softpak with a soft edging;
material is steady to influence of saliva;
material is flexible but stable by shape - helps to reduce distortions;
brief exposure prevent from appearance of image illegibility, caused by motion;
high contrast - facilitates diagnostics due to the well distinguished objects of different density;
is applied at all indications;
high quality both mechanical and manual processing;
storage longevity - reliable archiving within 30 years
Technical specifications
film size - 3 x 4 cm standard film;
E, D sensitivity;
middle gradient - 3,1;
fog density - no more 0.1B.
Delivery set


Name
Quantity, pcs, for packaging variant
1
25
50
100
150
RP-1 D film (dental), packed in a package:

sheet of light-proof paper;
lead foil;
envelope of pvc film.

1
25
50
100
150
Box
-
1
1
1
1
Polyethylene package
1
1
1
1
1
Label
-
1
1
1
1


Instruction to application
Unopened films before application must be stored in a room at the temperature of 14-22°C and relative humidity of air 60 ± 10% not less than 24 hours.
Opening and photographic processing of films must be conducted at non-actinic illumination, which is created with the help of ONIKO non-actinic lamp or laboratory lamp with an electric light bulb from 15 to 25 W, screened with a protective dark red colour filter #107 ("Slavich", Russia), or Kodak, Agfa, ORWO. A lamp with a colour filter must be positioned at least at 1,2 m distance from a film. At the same time duration of continuous influence of non-actinic illumination on a film must not exceed 1 minute.
Exposure time calculation (sec) for a receipt of X-ray rontgenogram on film with an optimal blackening density must be executed on the exposure time table at different tensions and currents:
Teeth
50 kV
7 mA
60 kV
7 mA
70 kV
7 mA
65 kV
10 mA
70 kV
10 mA
Incisor
0.64
0.32
0.16
0.20
0.16-0.12
Premolars
0.80
0.40
0.20
0.25
0.20-0.16
Molars
1.0
0.50
0.25
0.32
0.25-0.20
At the same time the film storage time must be taken into account.
Photographic processing of the exposed film must be conducted on the followings modes:
Kind and order of processing
Manual processing duration, min
Solution, air and rinsing water temperature, °С
Development in developer
G150
2
20 ± 2
Intermediate rinsing
0.1-0.5
not more 18
Fixing in fixer
G354
2-5
20 ± 2
Final rinsing in tap water
5-8
not more 18
Air drying, even moving
to total dry
not more 50
Note - The order of solutions preparation is expounded in the proper instructions for application of photo chemicals.
In the case of necessity for fog density reduction the anti-fog matter - benzotriazol in an amount of 0,1 gr/l can be added in a developer. To prevent the deformation of emulsion layers chrome alum in an amount of 15 gr/l. can be added into the fixer solution.
During the process of film developing and fixing in tanks, a film on holder frames is necessary to rock or solutions stirring must be executed.
To make solutions and to work with them it is necessary dressing rubber gloves in order to avoid skin irritation.
To make and save solutions, and also to do photochemical processing is necessary in corrosion-resistant dishes (stainless steel, glass, porcelain, polymeric materials etc).
Photochemical film processing can be conducted not before than 12 hours after solutions preparation.
To receive a high-quality X-ray images it is necessary to provide terms, which exclude the mechanical damages of emulsion layer, an origin of electric discharge on the film surface and also film becoming dusty. It is debarred to touch with hands to the emulsion layer.
Before film use the pvc film surface of envelope must be disinfected: to rub two times with a napkin of a coarse calico or gauze, which is moistened with an universal rare mean for disinfection of "Dezefekt" type or with 3% hydrogen peroxide according to OST 42-21-2 or with other mean which has a license of MHC of Ukraine to application. A napkin must be wrung out.
Storage
Films that an user and producer have must be stored in a consumer package on shelves in a room that is ventilated at the temperature of 10-23°C and relative humidity between 30 and 60 %.
Shelves must be positioned at least 1 m distance from heatings devices, on height of 0,1 m from a floor and also must be protected from influence of direct sun rays.
The film must be protected from the radioactive substances,chemicals and harmful gases (sulphuretted hydrogen, acetylene, ammonia, vapour of mercury etc.)
Producer guarantees
Producer guarantees a film quality accordance with requirements of TU U 19242964.001-2000 at the observance of terms of application and storage, set with these technical conditions.
The guarantee shell-life of ONIKO RP - 1 D is indicated on a box