NDT radiographic film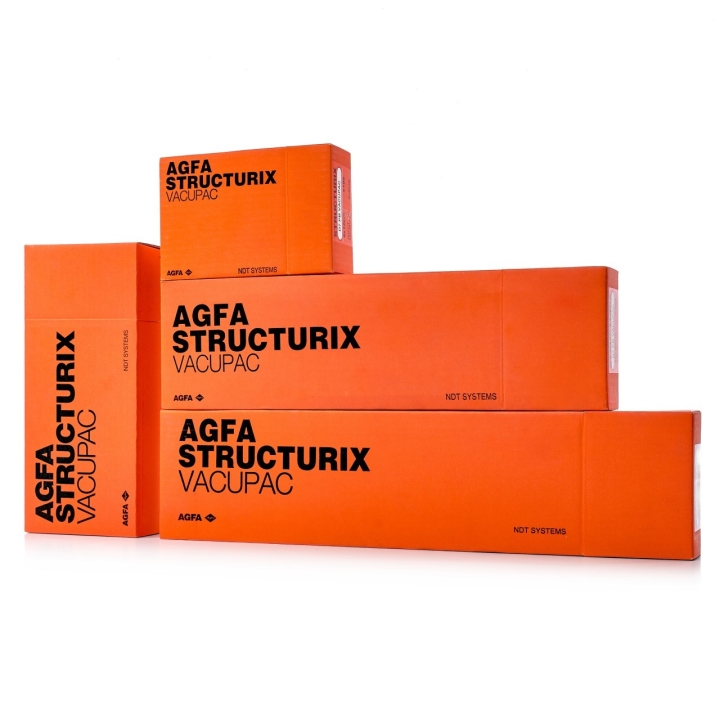 Agfa NDT radiographic film family builds on two critical facets of Agfa advanced film technology: High-quality images and rugged performance. Agfa NDT films' reputation for excellence is the result of GE's continuous striving for the highest product quality.

Optimum Image Quality
All Structurix fi lms benefi t from an Agfa emulsion breakthrough that provides increased contrast and maximum detail perceptibility. In fact, it results in the highest intrinsic defect recognition for each speed range. Even the smallest details can be interpreted with ease. The fi nished X-ray fi lm has a high quality with a brilliant surface, and the image has a pleasant blue tint.

Protective Coating
An important feature of the Structurix fi lms is a special protective top coating resulting directly from Agfa's Split Antistress Layer (SAL) technology. This top coat gives the fi lms unique high resistance to pressure, scratching and creasing. Another advantage of the top coat is that surface roughness has been optimized for problem free processing in automatic feeders such as the FEEDER.

Consistent Production Quality
Structurix films are manufactured in large quantities. To ensure they meet the most rigorous worldwide quality standards, they are produced at a single facility under tightly controlled conditions in an ultramodern coating room. Agfa's Total Quality Management approach, certified by the ISO 9001-2000 label, is the foundation of the system leading to this exceptional performance in production consistency. People, production equipment, and organization all become one system, geared to consistency and continuous improvement.

It's what we call the "moving target" quality philosophy. Moving target means that to meet the increasing needs of our customers, quality has to be built into our products, not by additional testing, but by design. Agfa's emulsion technology, for example, helps to provide a highly homogeneous emulsion over the total coating area.

Not only do the Structurix films have outstanding quality, they also have an exceptionally high level of batch to batch uniformity.

Consistent Processing Quality
Structurix films have a reputation for providing consistent and excellent results over a wide range of operating conditions. The Cubic Grain Plus technology is at the base of this consistent stable behavior. The extremely narrow grain size distribution, in combination with the cubic shape, assures that all exposed grains (latent image) will simultaneously develop the same density over a wide range of processing conditions. Moreover, they will do so rendering the very high contrast that is responsible for the high image quality.