DR 400 Radiography system
SCALABLE RADIOGRAPHY SYSTEM
The DR 400 system is a flexible and affordable solution.
Floor-mounted, it is easy to install, takes little space and requires no expensive ceiling structure.
At the same time, its adaptable configurations, available in two versions, mean it can be tailored to the specific needs of almost any customer.
No-nonsense, 'no-excuses' hardware provides reliability and maximum uptime: critical in a busy imaging environment.
The robust table, with floating table top and double touch foot switches, is user-friendly for both operator and patient.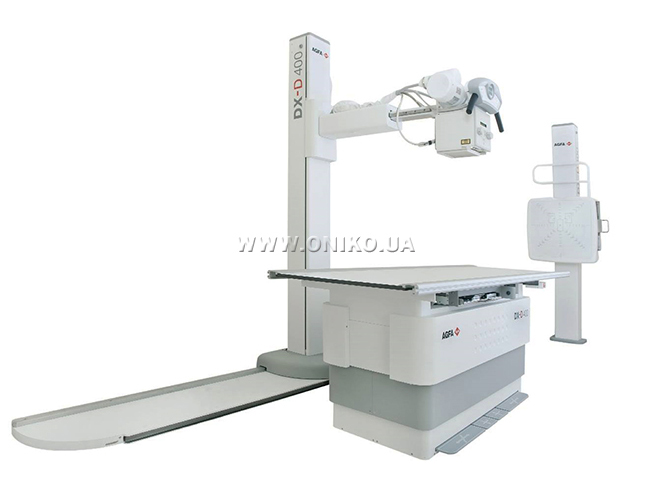 Flexible to meet every need
With its configurations and range of options, the DX-D 400 will fit with many imaging environments. The Analog Manual configuration includes a radiographic floating fixed-height table and an analog tubehead control panel. The Analog Manual (D) version offers an elevating floating table that can handle up to 350 kg (771 lbs), and a digital tubehead control panel.
Both configurations, the first two of this new DR 400 range, can be enhanced with options such as the wall stand with tilting bucky, which provides the operator with remarkable versatility for any exam positioning.
Floor-mounted suspension: ease of installation and use
Floor-mounted, the DR 400 is quick and easy to install, requiring no expensive ceiling structure. Its compact size (4 x 2 m) means it fits into even limited spaces. Yet, with the touch screen control console - with editable APR, ability to store new edited studies, functional grouping of controls and indicators and six selectable patient sizes including three for children - it still offers complete ease of use. This efficient design adds to its flexibility.
No-excuses, best-of-breed hardware
From the robust radiographic table, to the wall stand, to the tubehead and beyond, the DR 400 offers no-nonsense, best-of-breed hardware for all its components. By improving uptime and reliability, productivity is increased as well. Less maintenance means a lower total cost of ownership (TCO), and better protection of the hospital's investment.