FLEXIBLE DIRECT RADIOGRAPHY SYSTEM
The DX-D 300 DR system unites excellent image quality with the ultimate convenience. It offers top-of-the-line technology: a fully-motorized positioner enabling most exams with a single detector. Optional integration with Agfa Computed Radiography maximizes versatility. Its universal application, flexibility and affordability makes the DX-D 300 the DR system of choice for multipurpose rooms.
The DX-D 300 provides a cost-effective and easy to implement solution to get all the quality and productivity bene? ts of Direct Digital image capture. High quality Cesium Iodide detector technology offers excellent image quality with rapid image availability, while the proprietary MUSICA image processing delivers consistency and superior contrast detail.
The fully-motorized DX-D 300 eliminates the need for manual tube positioning and automatically maintains tube detector alignment for ease of use. This adaptability makes it ideal for use with all patients, even those less mobile, whether in sitting, standing or lying positions. By facilitating positioning, reducing patient waiting times and increasing diagnostic confidence, the DX-D 300 answers your need for constant enhancement of patient comfort and performance of your radiology department.
The smart design of the DX-D 300 allows fast installation and an easy fit into most diagnostic imaging environments. The floor mounting and compact size minimize installation costs. Combined with the popular NX workstation and MUSICA image processing, the DX-D 300 provides outstanding images and efficient workflow.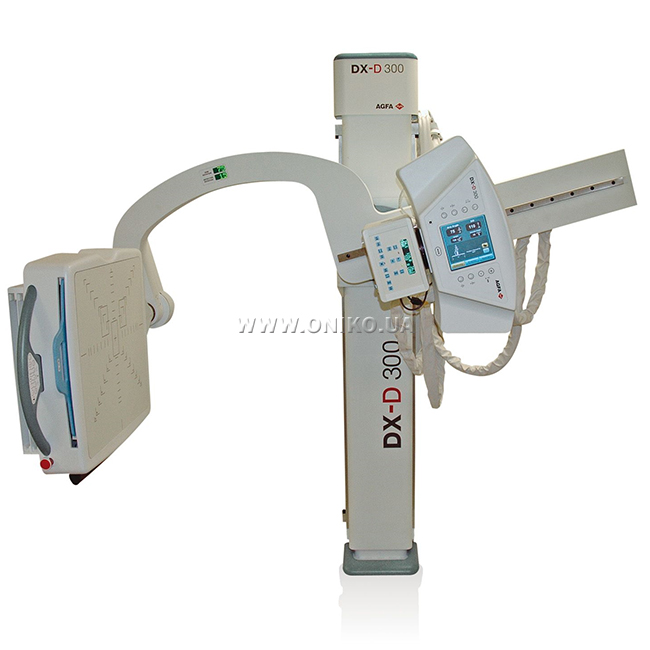 Superior contrast detail provided by MUSICA
The 'gold standard' MUSICA image processing in the DX-D 300 has been specially adapted and tuned to provide excellent DR image quality. Exam-independent, MUSICA delivers consistent image quality and high contrast detail with minimal manual intervention
Cesium Iodide technology for dose reduction potential
The DX-D 300 offers Cesium Iodide technology, for a high quality, high productivity solution. The fast image preview streamlines work? ow and reduces patient waiting times.
Universal, flexible and affordable
Offering maximum flexibility, the DX-D 300 has been ergonomically designed to perform a wide range of X-ray exams including upright, table, and angled exams. Its fully motorized U-arm and detector make lateral exams easy. This versatile solution handles a wide range of diverse studies including ambulatory patients or those in wheelchairs, emergency, chest, extremities, abdominal studies and more. When combined with a CR and Easylift system, a single exposure Full Leg-Full Spine exam provides outstanding geometric measurement accuracy while minimizing motion artefacts.
This adaptability makes the DX-D 300 ideal for most applications, from general radiography in any hospital, clinic or private practice; to emergency work in smaller facilities; to specialized fields such as orthopedic clinics or practices.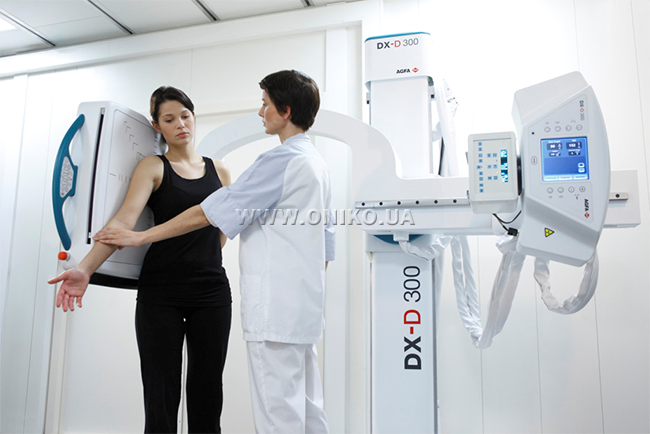 Single detector and fully-motorized positioner
With patient comfort on everybody's mind, the DX-D 300 X-ray system's fully-motorized design and U-arm positioner make positioning quick and easy even for difficult exams. The motorized arm rotation, arm height, source-image distance and the +45°/-45° detector rotation are all operated by two-speed motors that can be activated via infra-red remote control or using the buttons on the tube head and bucky. Configurable preprogrammed positions facilitate quick positioning for patient comfort. Sensors are incorporated in all movements to protect patient safety.
An ideal fit
The DX-D 300 has been designed to be ergonomic and user-friendly. Although compact in size - just 9.84 x 9.84 x 9.18 ft (3m x 3m x 2.8m) - this powerful system provides a variable source to image distance (SID) of 40" to 72" to accommodate a wide range of radiographic studies.
Integration: connectivity for a more efficient workflow
The DX-D 300 and NX workstation combine to create, a practical workflow, that is easy to learn and convenient to use. The NX has full RIS connectivity for automatic patient data entry for each exam. The fast preview helps to quickly QC positioning and the image is automatically processed with the MUSICA image processing software in just seconds for enhanced contrast detail. Studies can then be passed on to the PACS or imager for diagnostic viewing. Reject analysis and annotations are just part of the comprehensive functionality provided by NX, which comes standard with each system.
A quick and easy way to go Direct Digital!
With the DX-D 300, healthcare facilities of any size can enjoy the productivity benefits of Direct Digital, at an affordable price. The rapid image acquisition increases the number of exams per X-ray unit compared with conventional rooms, and permits a faster release of patients. Flexible positioning capability and faster image presentation mean improved patient comfort, and operator productivity.
Uniting CR and DR for top versatility
For top versatility, the DX-D 300 can be further enhanced by combining it with Agfa CR digitizers. This unites the DX-D 300's excellent image quality and DR productivity with CR versatility. The result is a mixed CR/DR radiology environment that suits each customer's unique needs. With the DirectriX needle detectors designed for the DX-S and DX-G, Agfa uniquely offers high image quality with both the DR detector and the CR digitizer, at the same NX workstation with the same look and feel.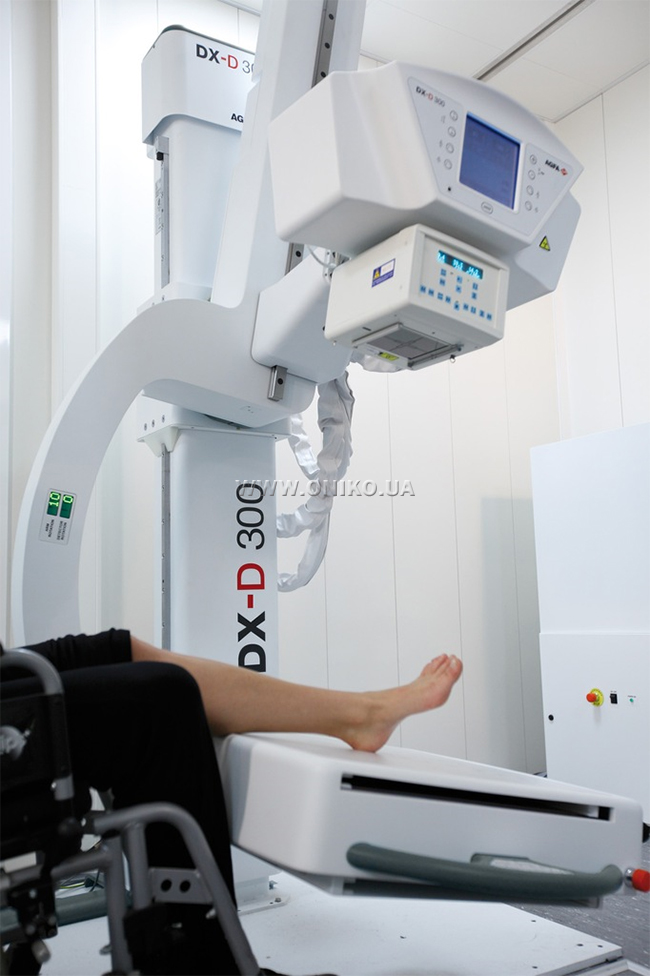 Reviews
(1)
Звертались на рахунок ремонту системи. Чудово обслужили. Дуже професійний інженер. Дякуємо!
Reply