Special radiographic films F6, F8
Structurix F6

As a result of further improvements in its core business of radiographic film for all applications, Agfa introduced a better product for rapid access radiography.

Structurix F6 is specially designed for offshore pipelines or similar applications. Such areas need short exposure time through the use of fluorometalic screens and fast processing cycles.

This F6 film type is mainly blue sensitive. All UV and blue-emitting screens can be used, but for industrial use, fluorometallic screens (cfr. Structurix RCF) based on CaWO4 provide good quality.

Manual processing can be used but without the advantage of consistent rapid processing. This should only be used as an emergency solution.
---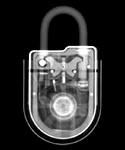 Structurix F8

Designed as a high quality film for fluorometallic (RCF) screen exposure when the speed obtainable with Pb screen system is insufficient or radiation safety is of prime importance.

Sensitive to all UV and blue-emitting screens. Calcium tungstate with lead or lead oxide backing, so called fluorometallic screens (Structurix RCF Screens), are most suited for industrial applications.

F8 with fluorescent screens is used in a variety of heavy construction applications, concrete, on stream examination of processing piping where X-ray energy has to be limited, flash radiography and microfocus enlargement techniques.

Relative exposure factor with fluorometallic screens depends on: temperature; radiation energy; exposure time.

When maximum speed is important the use of very fast screens such as the Structurix 1200 screen can further reduce the exposure time by a factor of three to six compared to RCF screens.

F8 is the ideal fast, high contrast, high definition film for fluorescent screen applications.

When higher sharpness is required we advise the use of D8 with Pb screens.