Agfa CR 12-X Digitizer
Affordable and efficient computed radiography solution offering high image quality and high speed
The tabletop CR 12-X digitizer is based on proven Agfa technology, with a modular yet robust design combining affordability with high image quality, adjustable speed and a user-tuned workflow.
Versatile, this computed radiography (CR) digitizer can handle a broad range of digital radiography applications.
The total cost of ownership remains low, thanks to its ease of installation, maintenance and use, making it an affordable way to move from analog to digital.
With the CR 12-X, clinics and private practices can take advantage of the convenient and fast workflow offered by digital radiography.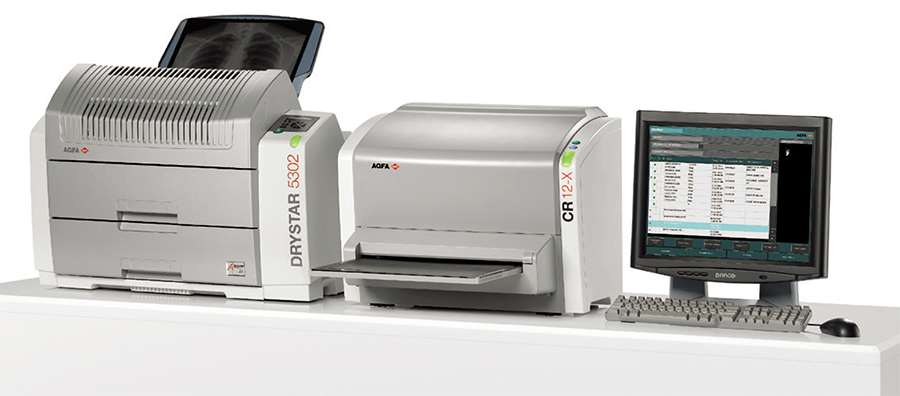 Balancing speed and resolution
With the CR 12-X, the user can choose to adjust speed and resolution depending on the needs of the exam.
The user can easily overwrite the default settings for each exam, depending on the specific speed/quality priorities, study by study.
Agfa intelligent MUSICA image processing automatically optimizes image quality.


Convenient and fast workflow
The CR 12-X works in conjunction with NX, Agfa image identification and quality control tool, for a highly efficient and optimized, yet customizable, radiology workflow.
It comes with Agfa gold-standard MUSICA software, which automatically handles all calibration and image processing, independently of body part and dose, optimizing the final image quality without the need for any human intervention or special training.
Robust yet easy to install and maintain
Installing the CR 12-X is fast and easy.
Special LED technology in the erasure unit means low power consumption.
With its 'one screwdriver' concept and modular, component-based design, maintenance is faster, easier and more cost-effective, as well.
Consequently, set up costs are lower and installation simpler.
Horizontal cassette insertion prevents dust and dirt from being introduced during normal operation.
Fits in small spaces and is suited for mobile applications.
With its table-top size, the CR 12-X digitizer can be placed easily at any location, no matter how small, and was designed with ease of use in mind.
The CR 12-X can also be fitted into cars, vans, trucks and other mobile facilities, for mobile applications.
Due to the low power consumption, connection to battery can be easily realized.